Paper statements are great, but would you like to get your account statements delivered right to your email inbox? Click "Read More" to learn how to set your NexGen Online Banking account up to receive eStatements!
First, you need to log into NexGen Online Banking using your desktop PC or a notebook computer. You cannot enroll in eStatements using the NexGen Mobile App.
In the sidebar, click "Online Statements" – you'll be prompted to allow a new window to pop up. If you have a pop-up blocker installed, you need to temporarily disable it or allow NexGen Online Banking through your pop-up blocker.

Now you'll see this enrollment screen. Click the orange text that says "eSign Document" as it contains your personal registration code. Note that you must have a compatible PDF viewer to open the registration code file – we recommend Adobe Acrobat, Google Chrome, or Microsoft Edge. (If you get an error stating that you must provide an email address, you will need to go to Settings > Profile and set your email address.)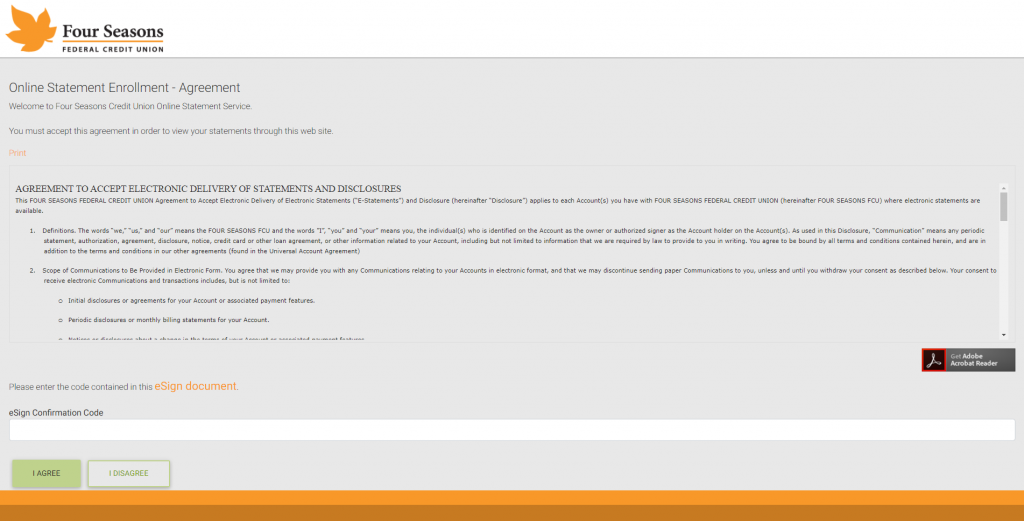 Once you provide the confirmation code, you'll be asked if you want to continue receiving paper statements or if you want to start receiving eStatements. Choose eStatements, and finally, click Enroll. You are now enrolled in eStatements! Once you Enroll, you'll be directed to the eStatements portal. Please note that any statements prior to your enrollment will not be available, only statements created going forward.